Gutter Guard
Gutter Guard for Homes and Businesses in Centerville, Forsyth, Hawkinsville, Marshallville, Wilcox & Throughout Middle Georgia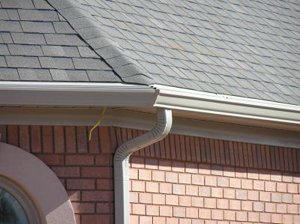 One of the most common sources of damage to a home or business is water. Left unchecked, rainwater floods basements, leaks through roofs, and can even cause shoddy siding to rot away, requiring expensive and costly repairs in the future. When it rains, water needs to be able to flow off the roof through gutters and down a water spout away from the home or business; clogged or damaged gutters interrupt this runoff and can cause serious damage to the house if the water is allowed to collect. One great way to ensure that your gutters are working properly is to install a gutter guard from AWT Vinyl. The concept of a gutter guard couldn't be simpler. Rather than allowing your gutters to become backed up with pine needles, branches and other debris, the gutter guard ensures that only rainwater enters your gutters – facilitating continuous water flow.

At AWT Vinyl, we offer Leaf Relief gutter guards, which mount securely to the property's existing gutter system. These tough, aluminum guards are built to withstand regular wear and tear, and are also a convenient alternative to constantly cleaning out gutters while on top of a ladder. In fact, Leaf Relief's unique design ensures that virtually no maintenance is required.

Leaf Relief gutter guards offer an unmatched level of efficiency. Our guards are designed to:
Withstand 29.7 inches of water per hour over a 20-foot roof section
Handle 19 inches of rain per hour when covered with wet leaves
Offer no water flow reduction even when covered with twigs or pine needles
Allow most debris to clear from the surface of the guard with a light breeze
Be 53% stronger than standard gutters
Withstand extreme temperatures and weather
Rather than worry about damaged or clogged gutters causing significant damage to your home, contact AWT Vinyl to learn more about our superior gutter protection and leaf protection products. Call today for more information and to schedule a free quote for installation.