Vinyl Siding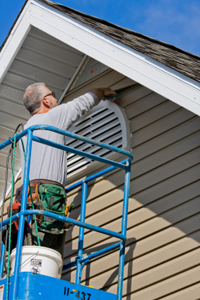 Vinyl Siding Installation in Forsyth, Macon, Oglethorpe, Perry, Vienna and More Middle Georgia Locations
Vinyl siding has become a popular choice for many homeowners in Middle Georgia in recent years, and it's easy to see why. With unmatched beauty and painless maintenance, vinyl siding offers a rare combination of easy upkeep and outstanding durability. At AWT Vinyl, we specialize in professionally installing top-quality siding on local homes and are here to help with all of your remodeling needs. Our licensed, bonded, and insured team of installers has provided exceptional customer service and products in communities throughout Georgia for nearly two decades.
At AWT, our first priority is to provide our customers with a product they can be proud of. That's why we only install vinyl siding from well-regarded manufacturers, such as Alcoa, Mastic and Reynolds Norandex. And we know that your siding is only as good as its installers, so to ensure you remain satisfied, we offer a lifetime labor guarantee and a one year warranty on all of our products. AWT Vinyl is also proud to be certified through the national Vinyl Siding Institute (VSI). To receive this certification through the VSI Certified Installer Program, our experienced installers met national standards on the latest techniques in vinyl siding installation, and demonstrated exceptional know-how and expertise in the field.
Vinyl house siding offers a number of advantages, including:
It requires virtually no maintenance, just the occasional washing

It is available in a variety of attractive colors and profiles

It has guaranteed durability

Is a great, economical way to remodel a house with a modern look

Foam backed insulated vinyl siding is an energy-efficient option
So, if you're interested in remodeling your home, look no further than AWT Vinyl – the preferred installer in Bibb, Houston, Peach, Twiggs and other counties in Central Georgia. Contact our team today to learn more about vinyl siding and to schedule an appointment for an estimate at your home or to meet with an experienced energy auditor.