Insulated Vinyl Siding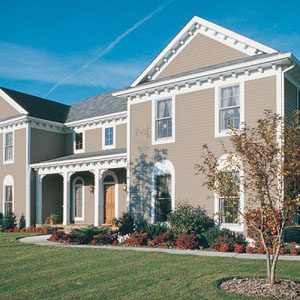 Insulated Vinyl Siding for Homes in Warner Robins, Macon, Perry, Centerville & Throughout Middle Georgia
The advantages of insulated vinyl siding from AWT Vinyl are numerous. In addition to being a beautiful addition to any home in Warner Robins, Macon, Perry and throughout Middle Georgia, the notable energy savings associated with home insulation make our vinyl siding an excellent investment. At AWT Vinyl, we have been proud to serve the community for nearly two decades and we have the expertise needed to handle any sized job. We're also proud to be the only Building Performance Institute-certified contractor in the area, which means we are able to provide our customers with a comprehensive home energy audit to identify areas where home energy efficiency can be improved.

Some of the benefits of installing insulated vinyl siding on your home include:
Vinyl siding requires virtually no maintenance. In most cases, soapy water is all that is needed to keep it looking like new.
Vinyl doesn't rot or fade.
Insect infestation is less common in vinyl siding.
Siding comes in various colors to match any home.
The added insulation helps keep heat in the home in the winter and outside the home in summer.
Replacement siding is highly resistant to harsh temperatures and climates.
Insulated vinyl siding can limit your energy consumption and lower your utility bills.
In addition to offering insulated vinyl siding, AWT Vinyl also offers a variety of home remodeling products such as ENERGY STAR®-rated replacement windows, eShield™ insulation, gutter guards, and sunrooms. To learn more about all of our products and services and to schedule an appointment and home inspection with one of our experienced contractors, contact AWT Vinyl today.