Sunrooms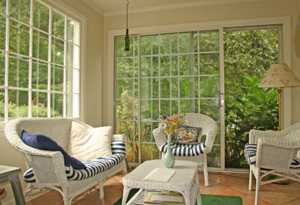 Sunrooms for Homes in Centerville, Forsyth, Gray, Kathleen, Lizella, Macon, Oglethorpe, Perry and other Central Georgia Locations
Sunrooms from AWT Vinyl are a beautiful addition to any Georgia home. Glass sunrooms are a bright, comfortable area that adds to the architectural appeal and value of any home, while providing additional floor space and an attractive sitting area. Plus, sunrooms can be climate controlled and protect you against inclement weather and pests – truly an extension of your house. At AWT Vinyl, we have over two decades of experience installing attractive and durable sunrooms throughout central Georgia.

As with any remodeling job, it can be a big decision to add a sunroom to your home. That's why the experts at AWT Vinyl are so committed to offering exceptional customer service; above all else, we want our customers to be comfortable with the installation timeline and happy with the results. To make the whole process as easy as possible, we provide our customers with a completely free quote for the project and carefully explain the timeline for installing the sunrooms on the home. From there, our licensed, bonded and insured contractors work every day to install the sunroom as quickly and efficiently as possible. Finally, we inspect the room with our clients to make sure that everyone is completely satisfied before the job is over.

AWT Vinyl is also pleased to offer additional home remodeling options, such as:
So, if you're interested in a adding a warm, beautiful and valuable addition to your home, consider one of the gorgeous sunrooms available from AWT Vinyl. Whether you're looking for a sunny area to eat your breakfast in the morning, a bright room to read a good book, or a great place to host parties, a sunroom is the obvious choice. Contact us today for more information and to schedule a free consultation.